Etherwall
Etherwall is a secure open source ethereum wallet for Windows, Mac OS X and Linux operating systems. Etherwall supports the TREZOR ONE hardware wallet for storing keys. (NOTE: Trezor T is currently not supported).
In full node client mode all data is stored on your computer, but you have to download the full (30GB+ and growing) ethereum blockchain. In thin client mode all your account data stays on your computer. A remote ethereum node is used to get latest blockchain information and send signed transaction.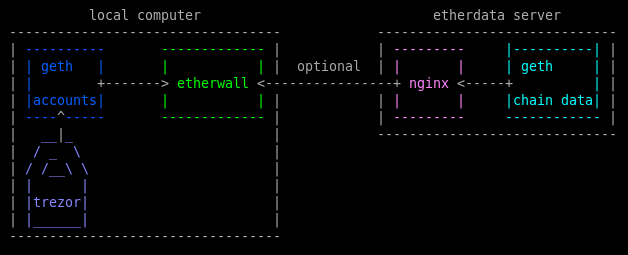 Other Wallets
Browser wallets introduce many vulnerabilities. These include centralized servers, disgruntled employees, plug-ins, Java Script…..etc. Each new path can introduce security holes, leaving your data, keys, I.D. and wallet exposed.
Authors
Concept / Programming: Ales Katona
Product Development: Derek Cormack P.Eng.
Calgary, Alberta, Canada.
© 2016-2022 Aleš Katona (Almindor)